Incrementality Platform Reviews
INCRMNTAL
INCRMNTAL was founded in 2020 by Maor Sadra (former CEO of Applift, and MD International at inneractive (acquired by Fyber), and Moti Tal (former CTO at inneractive, and CTO-Co-Founder at simplaex).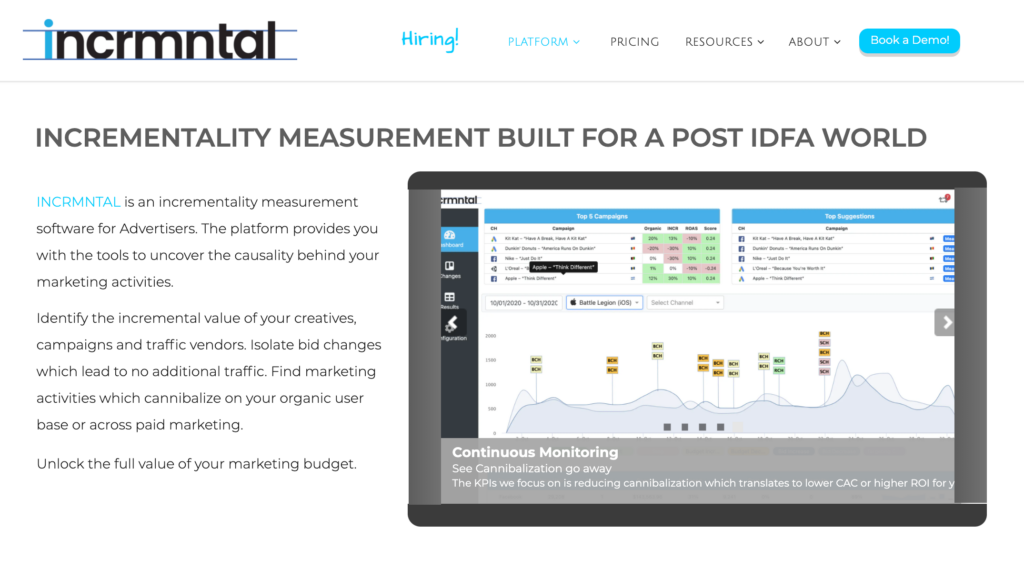 INCRMNTAL raised $2M from industry angels and executives in app companies. They seem to be getting a ton of positive support from people like Eric Seufert (MDM), Adam Jaffe, Thomas Petit and other respected members of the industry.
They are the only platform we reviewed that offers continuous measurement – the ability to provide incrementality results without the need to stop any campaigns, channels or countries.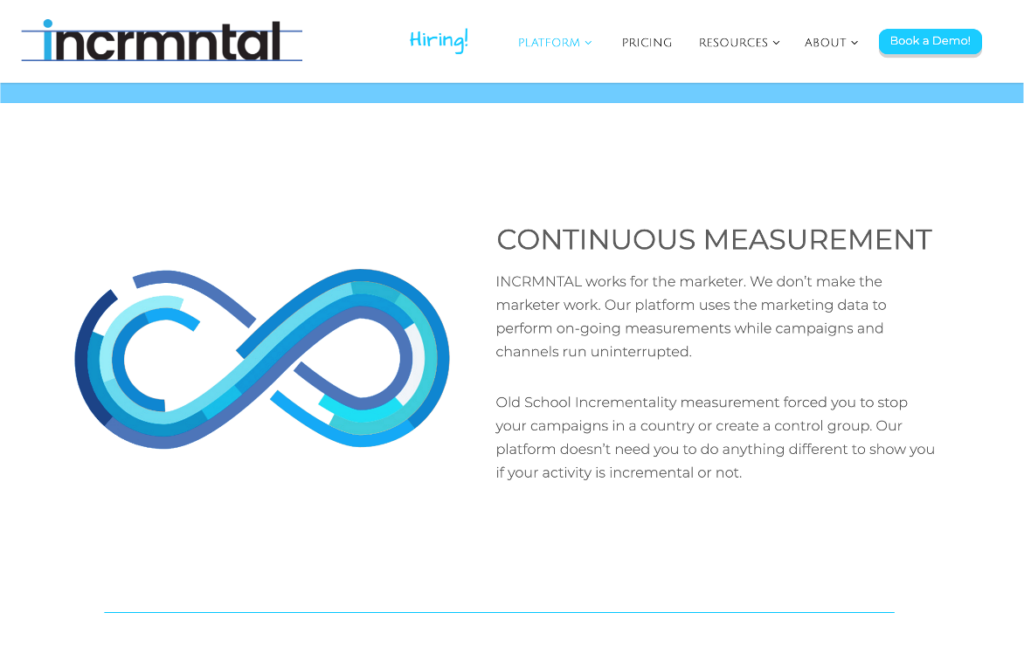 It seems pretty clear that these guys know the market well. They offer integrations with every platform a marketer needs – and they are also the only platform that we reviewed that supports SKadNetwork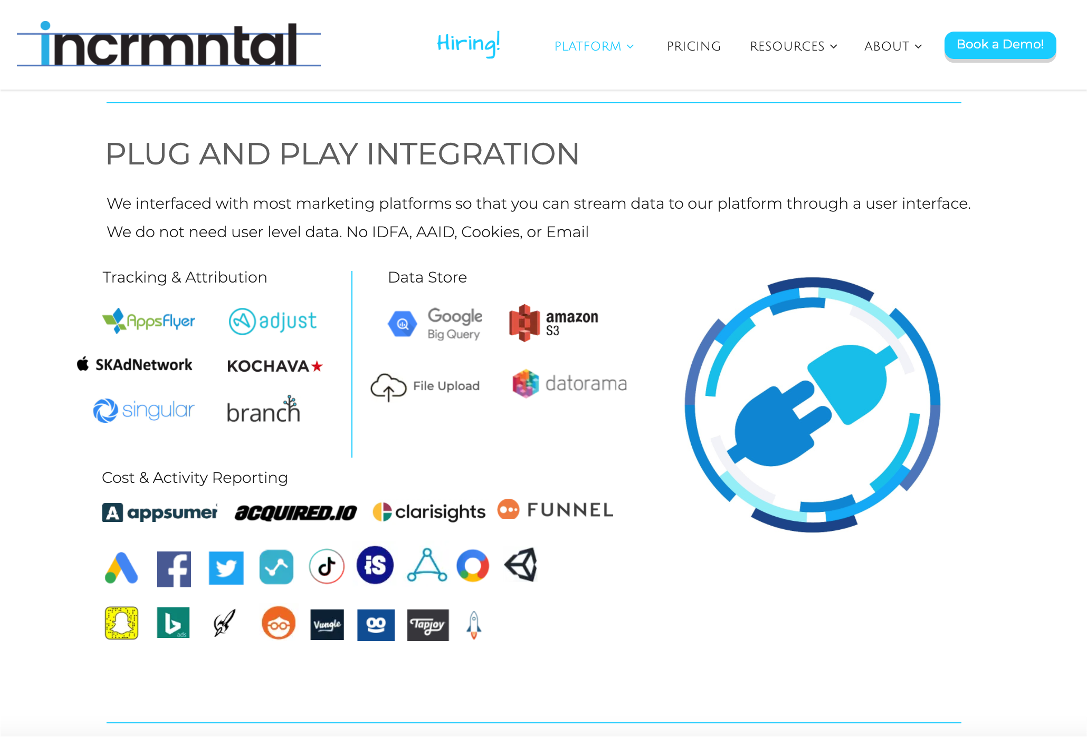 INCRMNTAL is a self service platform where mid-sized developers like my company can easily connect with and use with no sweat – but for the sake of the review, I approached them asking for support in the onboarding process.
The people I spoke with were very helpful and nice. They were willing to give me the support I needed even if I ended up going for the basic package. They even recommended trying out the free product first to see if I liked it. There was no pressure from them.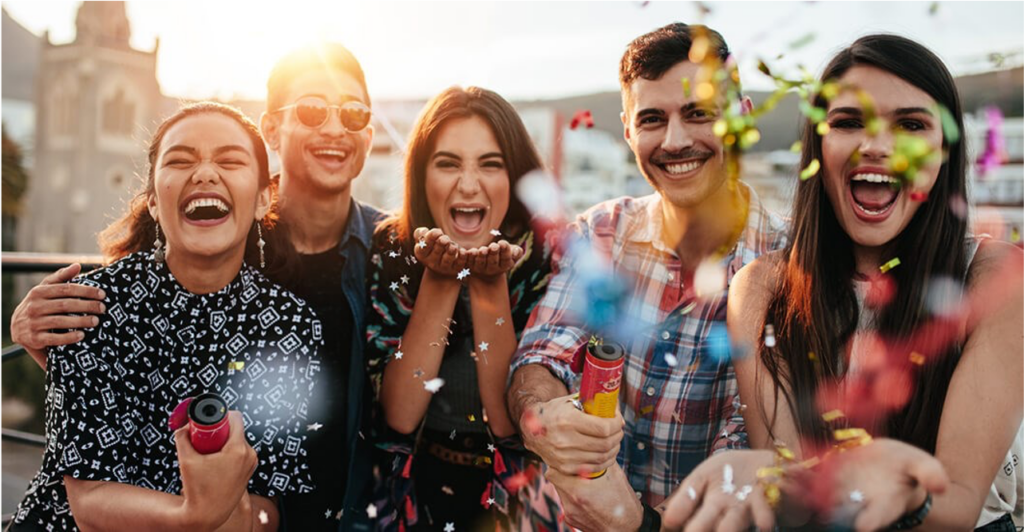 INCRMNTAL also shares a ton of relevant content, and has been one of the best sources for me to learn about incrementality. They launch article after article, and also has a good interview series (the roundtables) they publish regularly with guests.
While I thought their product only worked in mobile, I was surprised to learn that they also work with customers who spend very little on mobile.
One of the product "features" they have is called "track the untrackable" – which offers marketers a solid approach to measuring offline campaign performance automatically.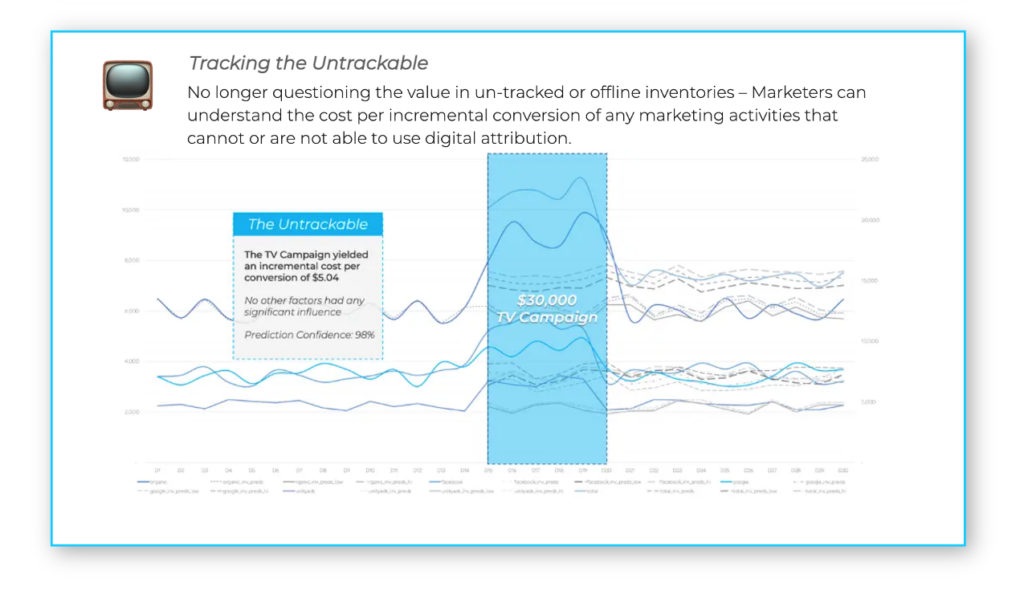 I've actually been following INCRMNTAL on their linkedin page for a while. They started the company just before Apple made their announcement – but it seems like they knew it was coming somehow.
What they offer is an approach that works with attribution solutions. They don't offer attribution themselves.
They are also the only incrementality platform I reviewed that had flat pricing and not based on my media spend or inventory volumes.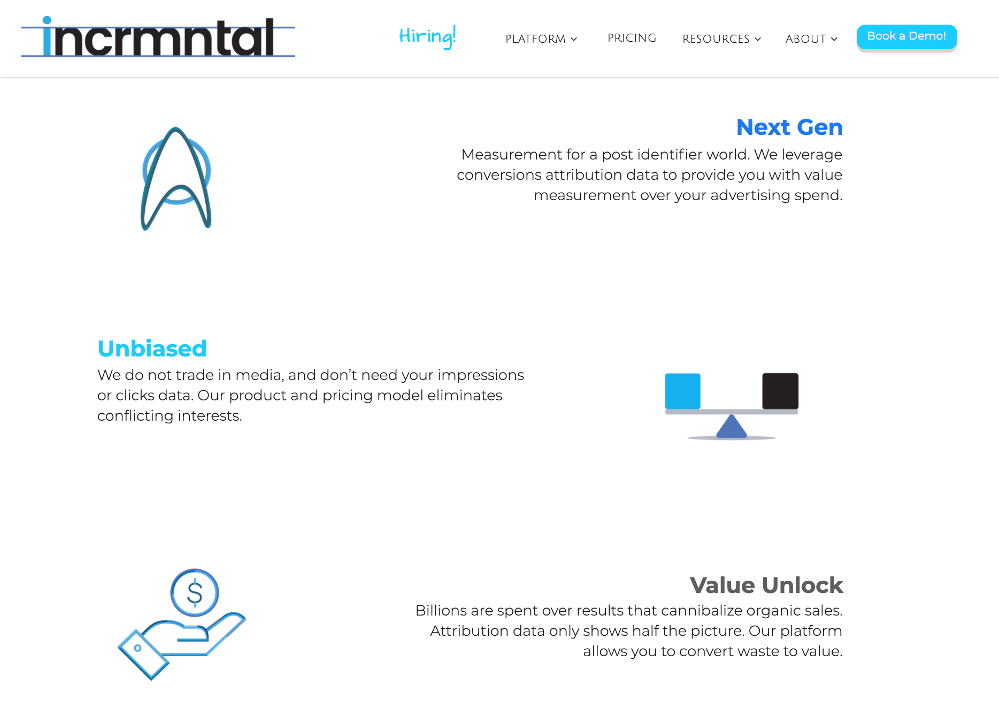 Since INCRMNTAL has so much support from top people in the industry – I actually had to push myself up the waiting list to join their BETA program.
The waiting was completely worth it…read the rest of the review below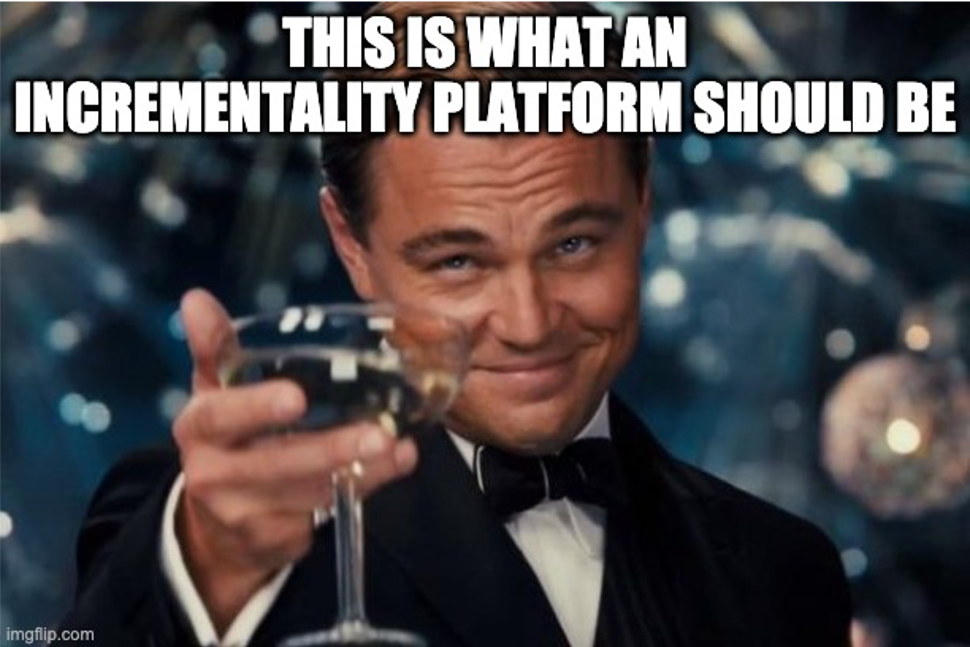 How easy is it to integrate with INCRMNTAL ?
Since I'm using Appsflyer, integration was really easy. I just clicked a button on Appsflyer and all the data INCRMNTAL needed was connected.
INCRMNTAL built a dashboard where I can select my Appsflyer data and drag and drop the fields to make connections between my appsflyer data and what they need.
It took 4 or 5 minutes to do.
After MetricWorks hell integration (which almost cost me my head and credibility with my engineering team) – integration with incrmntal was a breeze…. J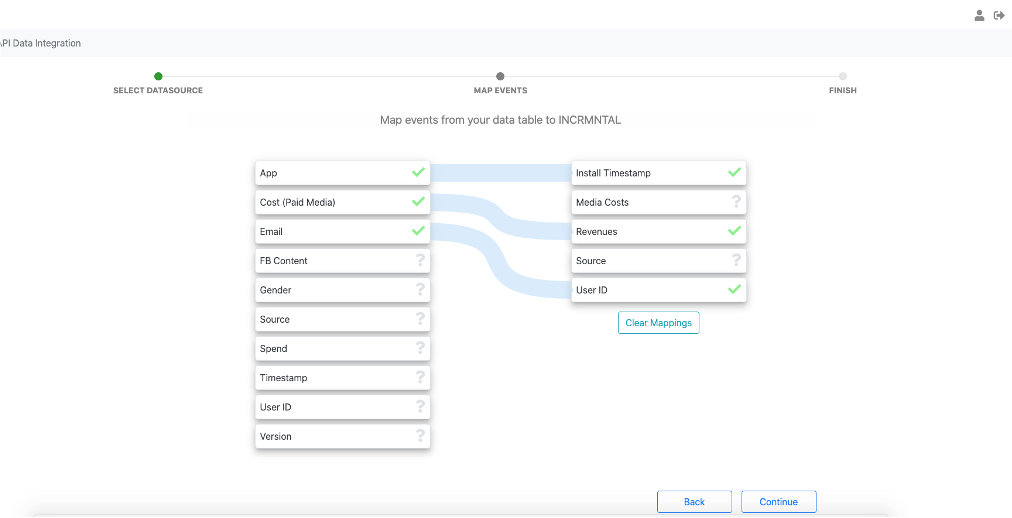 Ease of integration: ★★★★☆
What is INCRMNTAL's pricing ?
Lets start by saying that INCRMNTAL has a free package, and that every package they have also offered first 30 days free. Since they are on BETA, they are not yet sharing the prices on their website, but I can say that I ended up with the Basic package that costs $1K / month, and there's a discount if I would commit to an annual package. Even with the annual package – payment is monthly – and not annual pre-payment as Metricworks wants.
INCRMNTAL has 1 free package and 3 paid packages. The free package is good enough to experiment with. It only offers 3 tests, but since onboarding and integration took me 4-5 minutes and I needed no engineering resources – Free is good enough for a lot of small developers and just to run a test.
What is very cool is that the free version allows marketers to track their marketing changes for free. There's no limit to how many changes I could track. This was useful.
Originally I thought I would need the business package, but after speaking with INCRMNTAL – they told me that for my spend and needs – I would be better suited with the basic package.
They were also happy to open up all features for me (enterprise package) for the first 30 days, but as they said – the basic package was really what I needed, so I stuck with that one.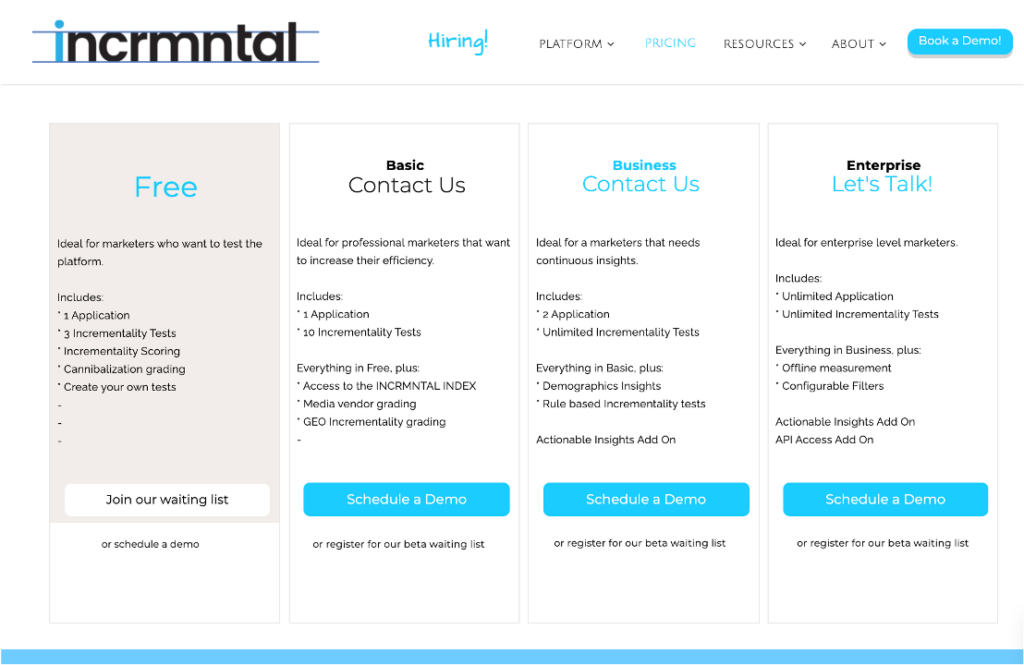 INCRMTNAL are very transparent about their product and pricing. Everything is available on their website and there were no hidden surprises.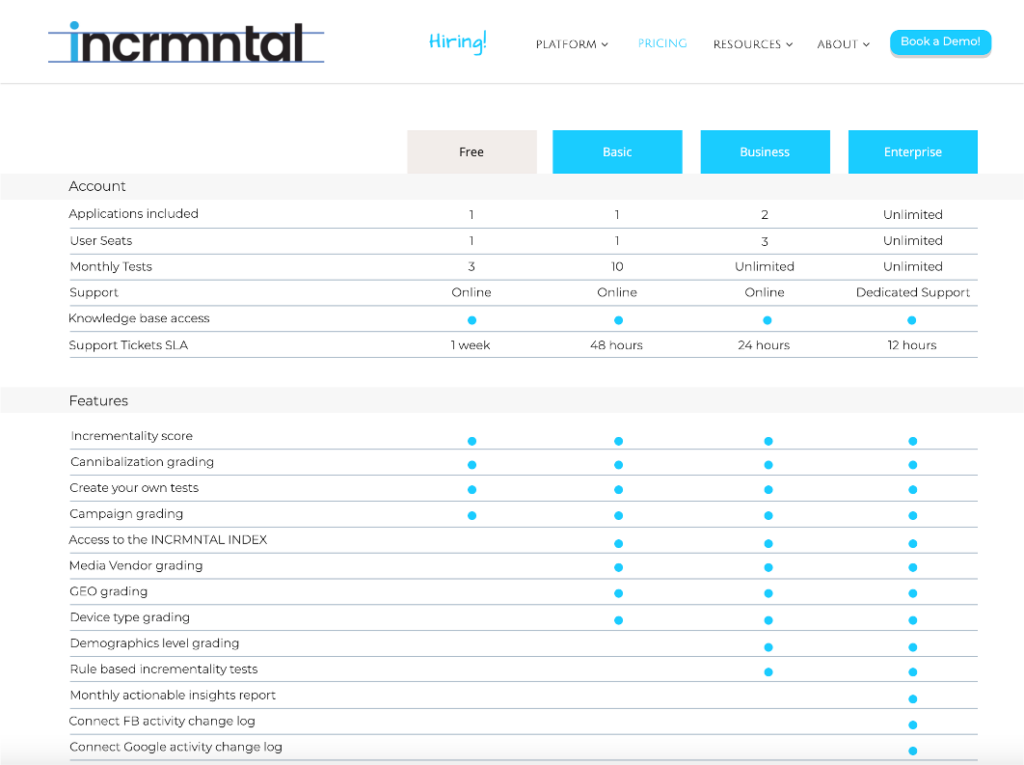 When it came to support – they had a very detailed documentation section available to customers, including case studies and quotes from other marketers.
They told me they are also starting a customer community, where I can connect with customers in my vertical and others to exchange ideas and tips both of how we can use the product, but also how to run effective marketing in general.
I really liked this approach of being open rather than trying to hide something.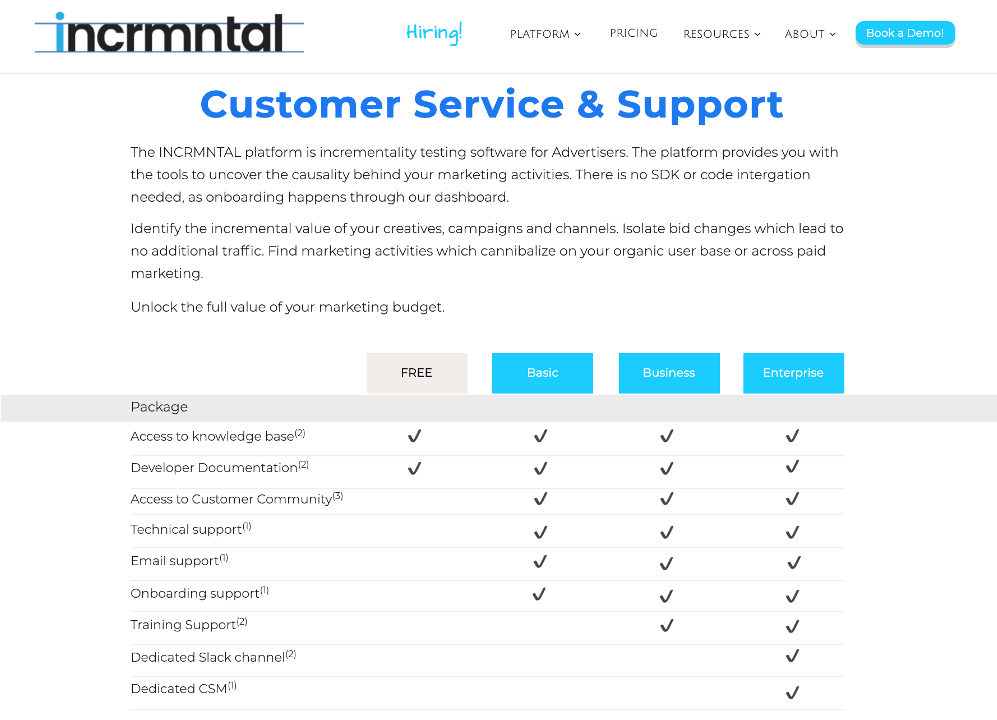 I gave them 5 stars. They totally deserved it!
Pricing: ★★★★★
What about the insights ?
INCRMNTAL provides insights that are very simple to digest.
There are currently 6 types of insights they provide (and for each, they also provide the opposite).
The most useful for me was the "What the F@#$ happened" one – this told me whenever something changed on the channels side that made my campaigns perform better or worse.
Since I spend around 40% of my budget with Facebook , I use tiers to bundle countries – and Facebook will often, for no reason, switch the traffic from countries where I had great performance to countries were the CPI was low but the LTV was also super low.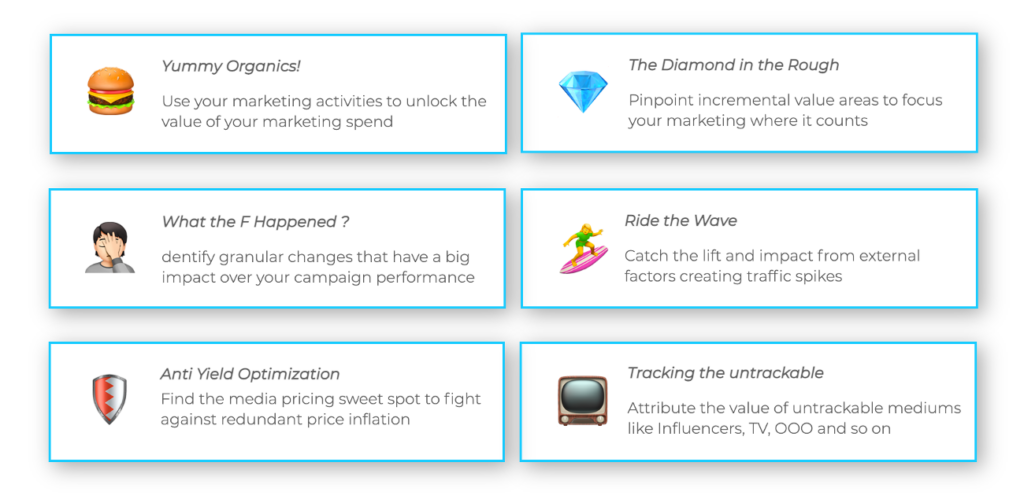 What I found even more exciting about their incrementality insights was that the results were transparent.
INCRMNTAL visualizes how the algorithm works and they were able to show me and my data science team their models, what influenced what, and what I should actually DO!!!!
They were the only platform where I could actually do something with the results in a way that improved my campaign performance and ROI.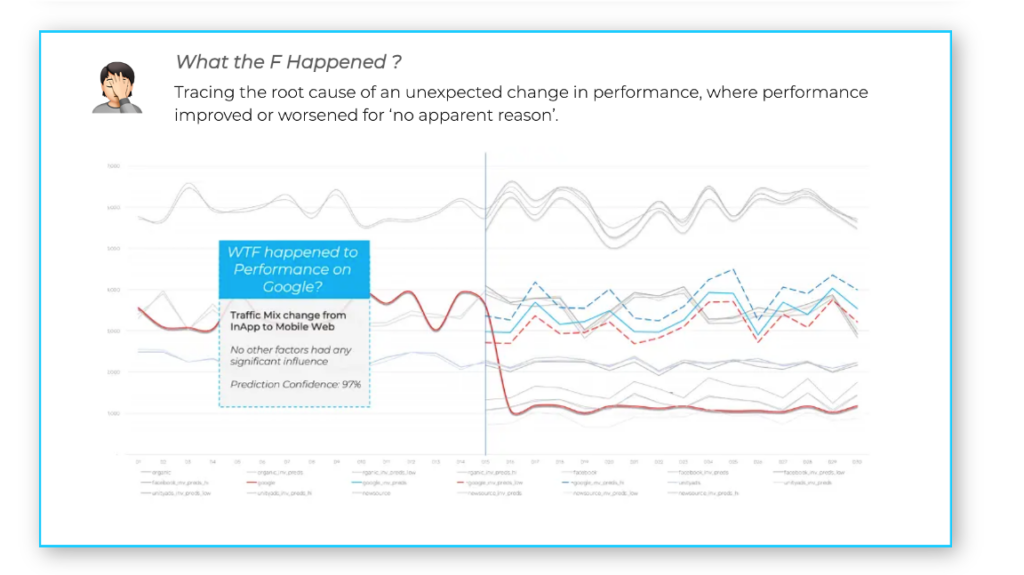 Useful insights: ★★★★★
Were the results from INCRMNTAL unbiased ?
INCRMNTAL was the only platform that had no component of media spend or volume of traffic in their pricing model. The sales person I spoke with said that I don't even need to share channel names if I don't want to.
He said that the only reason to share channel names is if I want to see the logos and make use of their platform easier for me – but they actually don't really need the names themselves.
The pricing being completely flat and no commitments needed raised my trust in the platform.
Update: I found this article on their website explaining their philosophy behind not charging for media spend or volume. Apparently being unbiased is one of their building blocks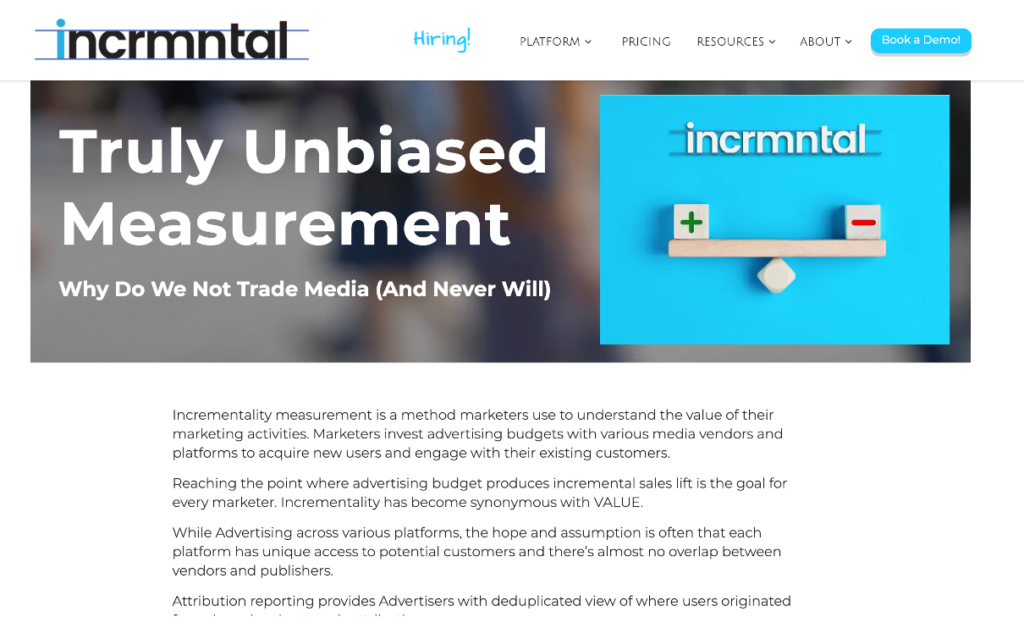 INCRMNTAL got the highest ranking for being unbiased.
Unbiased results: ★★★★★
Privacy Restrictions compliancy
They literally say it on the top of their website: "Built for a post IDFA world".
INCRMNTAL doesn't need device level data.
After integration, I found out that the data I passed them from Appsflyer was cohort data (i.e. not user level data).
I spoke with the sales rep there who told me that they specifically developed the platform in a way so that they don't need or want device identifiers.
He also said that the only reason they have a Data Processing Agreement was as because some customers do not know how to remove the IDFAs/Cookies in the integration process, and that it was easier for incrmntal to sign a DPA and remove the IDs themselves.
The whole approach of their platform relies on on-going testing and not the old school ways of doing a black out or a split audience test.
They are also the only platform we reviewed that was compliant with SKadNetwork attribution.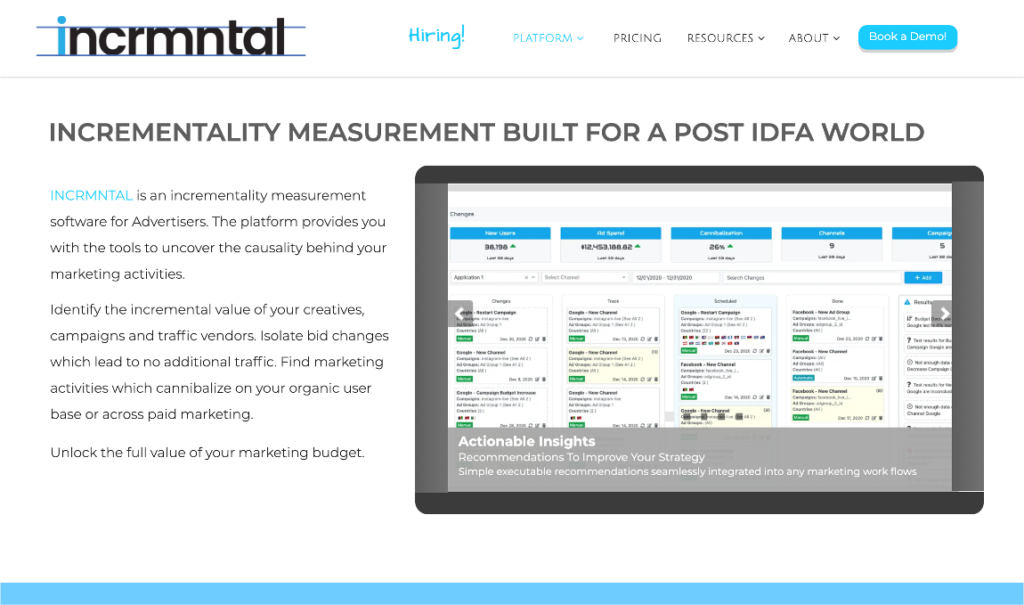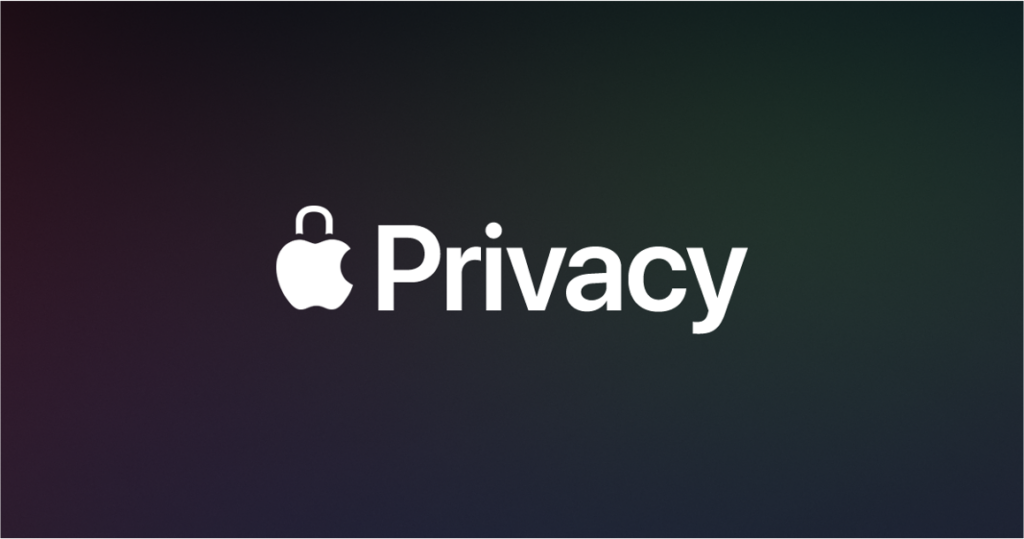 Here as well, INCRMNTAL scored the highest for privacy compliancy
Compliancy with privacy requirements: ★★★★★
What is INCRMNTAL overall score ?
I was very happy about INCRMNTAL. And even though it wasn't as easy to integrate as the SDK with Appsflyer , it was the only platform I reviewed that lived up to the promise it made.
Integration took less than 5 minutes , they were the only ones with a pricing model that didn't make me bleed , and the results were really useful.
I'm definitely continuing with INCRMNTAL for now.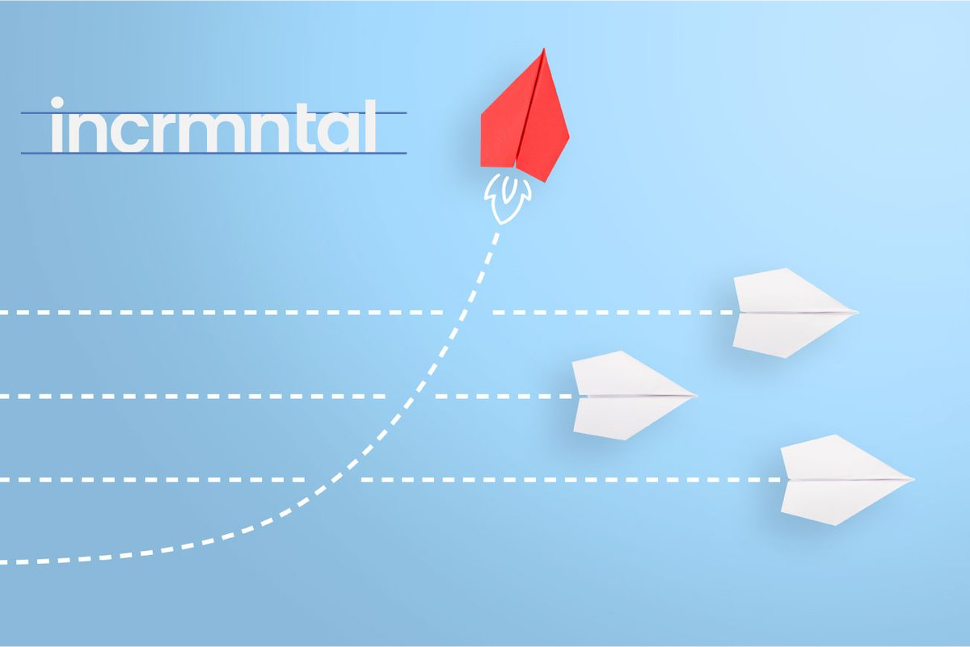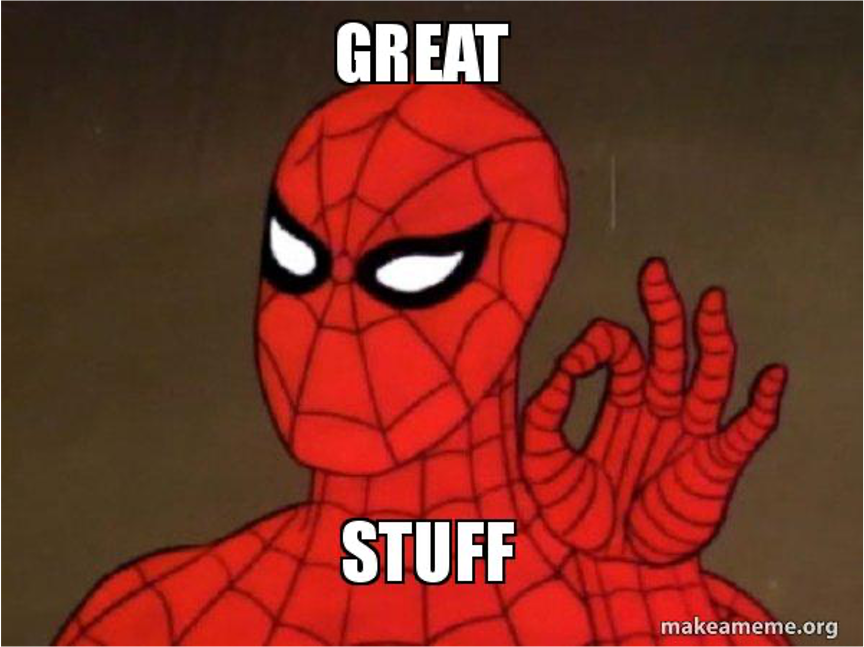 Update: I'm still using INCRMNTAL. We signed an annual agreement that gave us a discount. Payment is still monthly, so my finance team had no complains. I replaced a lot of my campaigns thanks to incrmntal and managed to increase ROI by almost 200% while keeping the same spend levels. My company CEO loves me 🙂
Incrementality Platform Reviews rating for INCRMNTAL:
Ease of integration: ★★★★☆
Pricing: ★★★★★
Useful insights: ★★★★★
Unbiased results: ★★★★★
Compliancy with privacy requirements: ★★★★★
Overall: ★★★★★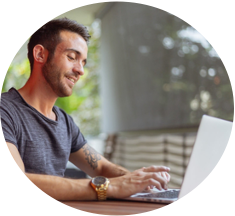 About the author:
Michael Holmstein, experienced marketer with over 7 years experience in app marketing. I've worked at gaming companies like MZ and Playstudios, and fintech companies like Current and Coinbase. Attribution and incrementality measurement is a personal passion of mine.
Comments Section
By: Joel C.
Comment:
Thanks for this review Michael! I had no idea that INCRMNTAL was able to run on-going tests. I thought that the only way to run incrementality tests was by stopping campaigns and countries.
I'm using the free package for now and will upgrade later on
By: Yoav S.
Comment:
Appsflyer is the best!
By: Alex W.
Comment:
Thanks Michael! We're using the enterprise package and all features. We've done a slack integration and we get the tickets directly to our emails each morning. We're a very large spender and needed the best incrementality platform out there.
We're using adjust for attribution , but we're streaming data to incrmntal through S3 files.
You didn't mention anything in the review about that – but readers should know that there are many integration options available that are not just from attribution. Just FYI.
By: Or T.
Comment:
We're also using Basic and will upgrade to Business soon (we wanted to apply incrmntal's insights to another app we're marketing).
Too bad they don't do marketing automation. For now, we're using their insights with bidshake.
Incrmntal told me they will have an api integration with bidshake soon so that bidshake can automate recommendations from incrmntal.